DESCRIPTION
ONETRAC LXS Yankauer is a single-use suction device with integrated, cordless radial LED light source.
This ready-to-use device eliminates the time and expense of reprocessing and reduces the risk of cross-contamination in the surgical setting by making reusable devices and fiber-optic light cables obsolete.
Illumination in the depths of a surgical pocket can be met within seconds – no assembly, additional parts/components, or fiber-optic cables required.
NOW AVAILABLE IN 3 VERSATILE TIPS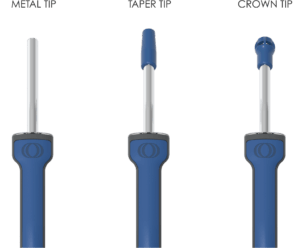 CONTRACTS
Premier contract # PP-OR-2239
HealthTrust contract # HPG-39624

FEATURES
Disposable, single-use device reduces risk of cross-contamination
Integrated cordless LED lights are cooler, providing direct illumination for over 3 hours of continuous use
Radial light coverage allows for full visibility of a surgical pocket
Patented LED driven lens & reflector technology enable an ultra-bright radial spotlight housed in a low-profile package
Centrally located on/off button to preserve battery life when not in use
4.5mm cannula channel allows for rapid suction
Color-coded battery activation tab
Curved cannula for easy access and targeted placement within a deep pocket
Ergonomic handle for improved maneuverability
Patented touch-free battery removal allows for disposal of batteries without battery contact for easy recycling
Available in Crown, Metal, and Taper Tip